NEW SEGMENTED FOLDER ROLLERS
STAHL STYLE ROLLERS MATCHING OEM SPECIFICATIONS
We machine new combo folder rollers to exact OEM specifications. These rollers run true with the bearings and give you the same superior gripping power as the OEM. Choose either classic urethane or our high grip urethane for faster running speeds with aqueous stock.
Stahl folder rollers order form and prices
DOZENS OF MODELS, EVEN OBSOLETE
Has the OEM and dealer stopped making rollers for your folder or told you the machine is obsolete? You've come to the right place. Our library of folder rollers include many old models, and we can usually match any sample you send us.
UPGRADES FOR YOUR STAHL FOLDER
Upgrade your Stahl folder by changing over to spiral grip rollers. It doesn't matter, the age, old or new style. From Stahl-O-Mat and Flex-O-Mat through USA, your folder can run better with spiral grip fold rollers.
Upgrade to TH rollers to produce faster running times. These rollers have wider and overlapping polyurethane sections. "Soft polyurethane material provides superior traction, holds excellent register, prevents marking and promotes absolute parallel stock transport. The staggered polyurethane against polyurethane configuration resists wear" (Graphic Arts ).
Make your machine *like new.* Get the Stahl folder accessories needed to change out your rollers. Get bearings, washers, and bushings, available in roller packs or bearing sets. If you need tips on when to replace these parts, see our folder accessories page.
All combo rollers are inspected for any defects and run-out tolerances prior to shipping. For more information on our inspection process and warranty policy, please see our warranty page.
Stahl is a registered trademark.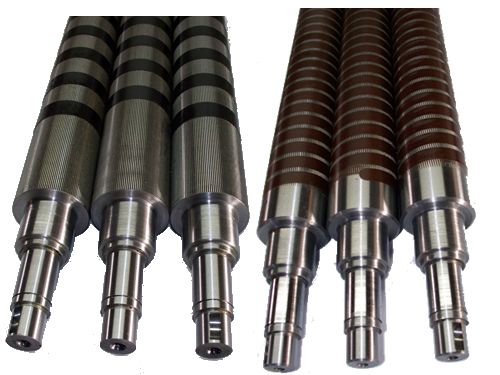 Stahl Rollers
Standard Configuration
Stahl Rollers
With Spiral Grip
Stahl Roller Pack One Per Roller, $85.00
One Piece Bearings for Stahl
$70.00 set of 2
CHOOSE HIGH PERFORMANCE SOFT URETHANE FOR MAXIMUM RUNNING SPEEDS ON COATED STOCK