WE MANUFACTURE SEGMENTED GLUING ROLLERS FOR ALL MAKES OF FOLDING MACHINES WITH THE SAME STANDARDS AND RELIABILITY AS THE OEM
Use Folder Rollers quality services and products to maintain and replace your segmented gluing rollers. Each movable segment is 1 3/8″ in length and has a brass tipped set screw to lock the segment in place.
Our segmented gluing rollers are interchangeable with those made by MBO, Stahl, Baum, Shoei, and more. Please note, however, that our shaft diameters are an English dimension — not metric. Therefore, your segments, if manufactured by another company, may not fit on our shaft.
Our rollers come with enough segments to equal the full face length of the of roller shaft, providing you with a few extra segments after you space them apart to match the gluing path. All rollers come with our one year warranty.
Are you shipping your rollers to us for recovery? Read our shipping tips to learn how to make sure your rollers arrive safely.
Segmented glue rollers are special orders and are not returnable.
MBO, Stahl, Baum, and Shoei are registered trademarks.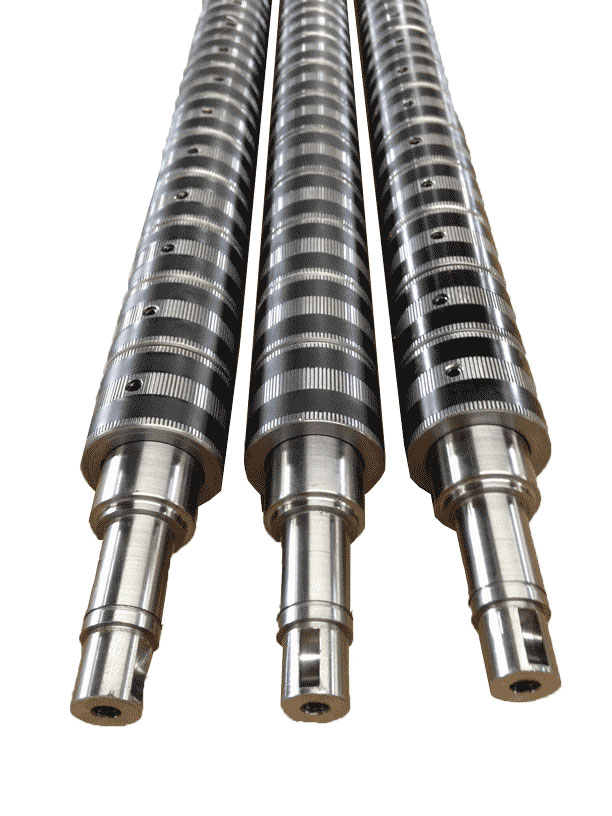 CHOOSE HIGH PERFORMANCE SOFT URETHANE FOR MAXIMUM RUNNING SPEEDS ON COATED STOCK