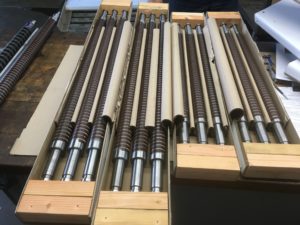 Follow these simple tips to safely ship your rollers to our shop:
Choose sturdy materials for boxing rollers. Pressed cardboard (shown) made for shipping steel shafts is the safest choice. Avoid using cardboard boxes unless you are shipping one or two rollers, and the combined weight is less than 25 lbs.
Don't use pine boxes — the wood is weak and the rollers can force their way out of the box. If you are constructing your own box, use plywood. Your box needs to be strong enough to survive being dropped from a waist-high height on its corner.
Rollers should not be loose in the box, as they will bang against each other, damaging the knurls. Use paper, cardboard, or plastic to cushion the rollers, or fasten them within the box.
Include a copy of your order form or purchase order in the box and include your company name on your shipping label. When returning used exchange rollers, please note "returned exchange rollers."
Estimate your rollers' value and insure your shipment.
Ship to: Wear Ever Mfg / 2283 Camel Rd. / Benicia, CA 94510
We use UPS to ship rollers to our customers, but may also be able to arrange for pick-up by other carriers. Consider a freight carrier for orders over 150 lbs. Learn more about Wear Ever Mfg.